Voting in the Time of Pandemic:
A Briefing for MCOs, ICAs, SSI Medicaid HMOs, and Stakeholders
July 7, 2020, 12 – 1 p.m. (rescheduled from July 1st)
Many voters with disabilities have experienced barriers to exercising their constitutional right to cast a ballot. The health risks related to COVID-19 have created additional obstacles to voting. This session is to inform leaders at Managed Care Organizations, Health Maintenance Organizations, IRIS Consultant Organizations and others who serve Wisconsinites with disabilities and older adults about these barriers, and to share strategies and resources their organizations can use to help their members to safely vote.
Training Resources
Wisconsin Disability Vote Coalition: includes fact sheets, videos, and news
National Disability Voter Registration Week
---
Event hosted by: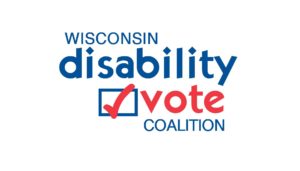 Supported by: