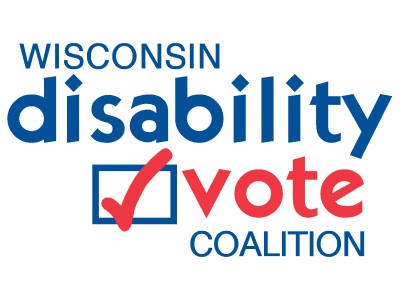 Voting News from the Disability Vote Coalition
The Wisconsin Disability Vote Coalition is a non-partisan effort to help ensure full participation in the electoral process of voters with disabilities.
Please share the information in this newsletter!
Spring Election Lunch and Learn – March 20th
Join us on March 20th at noon on Zoom to prepare for the April 4th Spring Election.

Learn about what's on the ballot, important deadline, tips for absentee and in-person voting, and your voting rights!
Our Lunch and Learn will include a discussion of the Constitutional Amendment and Advisory Referendum which are on the Spring Election ballot.
April 4th Spring Election – Important dates
Plan ahead!

Here are important deadlines for the April 4th election.

Today March 15th is the deadline to register online or by mail!
Voting by mail?

Request your absentee ballot as soon as possible to allow time for it to be mailed to you and returned.

Registered voters may request an absentee ballot at:
My Vote Wisconsin
:
March 14: Clerks mail absentee ballots to voters with valid requests on file.

March 15: Deadline to register to vote by mail or online for the Spring Primary. After this date, voters must register in-person in the municipal clerk's office or at their polling place.

March 21: In-person early voting can begin.

March 30: Absentee ballot request deadline for regular and overseas voters.

March 31: Last day to register to vote in the clerk's office or other designated location before Election Day.

April 4 – Election Day.

Polls are open from 7 AM – 8 PM
What's on the Ballot?
In the Spring Election, Wisconsinites will vote for a State Supreme Court Justice who will serve for ten years and rule on cases that impact your rights and liberties.

The new Justice may be a "swing" vote as many cases are decided on a 3-4 vote.
Also on the ballot:

two questions for an amendment to the Wisconsin Constitution regarding setting bail for some people accused of crimes, and an Advisory Referendum about work requirements for people who receive welfare benefits.
We encourage voters to study these proposals in advance. Changing our State Constitution is a big deal and should be approached with care and deliberation. Remember: there is no requirement to vote for something you are unsure about.
Check out these resources to learn about the constitutional amendment and advisory referendum and the candidates:
Help Support People with Disabilities and Older Adults to Vote in the
April 4th Spring Election
April 4th is a very important election in Wisconsin. Many people with mental health needs and other disabilities and older adults experience barriers to voting. The Disability Vote Coalition can help you to support community members with the information needed to register to vote, cast a ballot, and understand voting rights and accommodations.
Have a voting question?

Contact the DRW Voter Hotline at 844-347-8683 or

info@disabilityvote.org

Want to order voting materials or schedule a training? Contact the Hotline!

Need information about voter registration, photo ID, or ballot return assistance? Our Voter Toolkit for the 2023 Elections has what you need:

Voter Toolkit – 2023 Elections

.
Rides to the Polls for the April 4th Election
Thanks to all who responded to our survey about transportation for the April 4th election.

"Rides to the Polls information for the Spring Election will be posted soon on the Disability Vote Coalition website at disabilityvote.org/
Ballot Return Assistance for Disabled Voters
As affirmed by a federal court in August 2022, any Wisconsin voter who requires assistance with mailing or delivering their absentee ballot to the municipal clerk because of a disability must be permitted to receive such assistance by a person of the voter's choice, other than the voter's employer or agent of the voter's union.
Some disabled voters have experienced barriers and have received incorrect information from their clerk or at their polling place about their right to ballot return assistance.

Please help us to ensure that disabled voters understand and can assert their right to ballot return assistance.
Contact the DRW Voter Hotline at 844-347-8683 or
info@disabilityvote.org
if you receive absentee ballot instructions that state "only the voter can return their ballot" and do not explain the rights of disabled voters, or see signage at the polling place with this information, or if your right to assistance is denied or challenged.
VOTING QUESTIONS?
Help is available! Contact these resources: