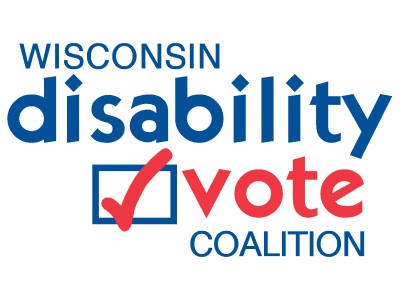 Voting News from the Disability Vote Coalition
The Wisconsin Disability Vote Coalition is a non-partisan effort to help ensure full participation in the electoral process of voters with disabilities.
Please share the information in this newsletter!
Help Turn Out the Disability Vote for the April 4th Spring Election
April 4th is a very important election in Wisconsin.

Let's work together to ensure that people with disabilities are registered to vote and cast a ballot!

The Disability Vote Coalition is available to provide voters with disabilities and community agencies with the information needed so more people with disabilities can participate in our democracy.
Do you have a voting question?

Contact the DRW Voter Hotline at 844-347-8683.
Would you like to order voting materials or schedule a training? Call the Hotline or email us at

info@disabilityvote.org

Need information about voter registration, photo ID, or ballot return assistance? Our Voter Toolkit for the 2023 Elections has what you need:

Voter Toolkit – 2023 Elections

.
School Board Elections Matter

Forum on March 6th
Join the Wisconsin Disability Vote Coalition on March 6th at 6 PM for School Board Elections Matter: Why You Need to Vote in Local Elections.
Our panel will discuss the importance of school boards and the impact school board members can have on services for students with disabilities. Panel members are parents of children with disabilities who will share why they chose to run, progress they have made for students with disabilities and why your vote matters. The panel will be moderated by Heather DuBois Bourenane, Executive Director of the Wisconsin Public Education Network.
Spring Election Lunch and Learn on March 20th
Plan to attend our March 20th Spring Election Lunch and Learn on Zoom from Noon-1PM to be sure you are prepared to vote in the Spring election.

The April 4th election is very important! Voters will decide on a new justice who will serve on the State Supreme Court for ten years, and also vote on a constitutional amendment and advisory referendum.

Many voters will also vote on important local races.
Join us on March 20th to learn more about what's on the ballot and why this election is so important. We will also discuss key deadlines, absentee voting, voting in person, and key rights and accommodations.
What's on the Ballot?
In the Spring Election, you will be asked to vote on two amendments to the Wisconsin Constitution regarding setting bail for some people accused of crimes, and an Advisory Referendum about work requirements for people who receive welfare benefits.
Many voters will not be familiar with these proposals.

We encourage voters to study these proposals in advance.

Changing our State Constitution is a big deal and should be approached with great care and deliberation.

Remember: there is no requirement to vote for something you are not sure about.
A good place to learn more about these proposals is the
Ballotpedia
website.

Enter your voting address to view information about these proposals.
April 4th Spring Election – Important dates
Plan ahead!

Here are important deadlines for the April 4th election.




Voting by mail?

Request your absentee ballot as soon as possible to allow time for it to be mailed to you and returned.

Registered voters may request an absentee ballot at: My Vote Wisconsin:

https://myvote.wi.gov/

January 24: Last day to begin acquiring residence to vote in Spring Primary. Voters moving after this date may vote from their prior address.
January 31: Clerks mail absentee ballots to voters with valid requests on file.
February 1: Deadline to register to vote by mail or online in the Spring Primary. After this date, voters must register in-person in the municipal clerk's office or at their polling place.
February 7: In-person early voting can begin.
February 16: Absentee ballot request deadline for regular and overseas voters.
February 17: Last day to register to vote in the clerk's office or other designated location before Election Day.
Act today to order the Wisconsin Disability Vote Coalition free 2023 election postcards and posters
. They provide the election date and important phone numbers and websites to contact for help. Use these materials at your outreach events, in your literature racks, share with clients, and include in mailings. Postcards are available in English and Spanish.
To place your order, complete our survey:
VOTING QUESTIONS?
Help is available! Contact these resources: