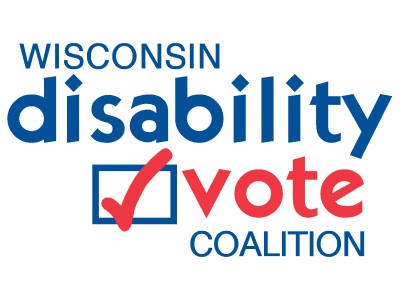 Voting News from the Disability Vote Coalition
The Wisconsin Disability Vote Coalition is a non-partisan effort to help ensure full participation in the electoral process of voters with disabilities.


Rev Up for the November 8th Election: October 17th Zoom Training
Make sure you are prepared to vote in the November 8th election! Join the Wisconsin Disability Vote Coalition on October 17th at 1:30 on Zoom to get the latest on voting in Wisconsin. You will learn about recent changes to voting law and absentee voting, as well as important deadlines and tips for voting in person.


The Self-Determination Conference is Next Week
Are you attending the Self Determination Conference? The Disability Vote Coalition will be there and we would love to see you and talk voting! Stop by our resource table and say hello. We have some great swag and resources for you to take back and share with your community!
Important Deadlines – the clock is ticking!
The November 8th Election is just a few weeks away. Make sure you don't miss a deadline:
Check your voter registration at MyVote Wisconsin. If you aren't registered or if you moved and need to register, act now:

Deadline to register online or by mail: October 19
Deadline to register in person at your clerk's office: November 4
Register at your polling place: November 8
If you need to request an absentee ballot, do not delay – act now!

Request your absentee ballot online at: myvote.wi.gov/en-us/VoteAbsentee
You may also mail a completed Absentee Ballot Application with your clerk, with a copy of your photo ID or apply for an absentee ballot at your clerk's office.
If you have an absentee ballot request on file, your ballot should have been mailed to you. Check the status on My Vote Wisconsin, Tack My Ballot: https://myvote.wi.gov/en-us/Track-My-Ballot
Carefully follow the instructions for completing your absentee ballot and the certificate envelope. Make sure that your witness signs their name and records their complete address on the envelope including street number, street name, municipality, state and zip code. Clerks are no longer able to correct missing or incomplete witness address information.
The Right to Assistance for Voters with a Disability
Are you a voter with a disability? You have the right to assistance with any part of the voting process, and that right is protect by federal law.


Voters with a disability, may request assistance with mailing or delivering their ballot from anyone who is not their employer or a representative of their labor union. If you ask someone to return your ballot, let your assistor know they may be asked to confirm that they are returning a ballot for a person with a disability. The voter and assistor should not have to fill out any forms or provide proof of disability.


Wisconsin requires photo ID for voting for most voters
If you don't have a photo ID, act now. You can get apply for a free Photo ID for voting at the Wisconsin Division of Motor Vehicles (DMV). Contact the DMV Voter ID Hotline: (844) 588-1069.


Another helpful resource is Bring It to the Ballot: https://bringit.wi.gov/ If you have questions or need a hand navigating this process, help is available. Give us a call at the DRW Voter Hotline and we will get you connected.
New Video - Parent to Parent: Why I Support My Adult Child with a Disability to Vote
Enjoy our latest video from the DVC: Parent to Parent: Why I Support My Adult Child with a Disability to Vote: https://youtu.be/BcF9DrxrwKg. This video talks about why retaining their child's right to vote was so important to them and their child.
In Wisconsin, a person under guardianship retains the right to vote unless the court expressly removes it. If you are under guardianship and have lost the right to vote, help is available. New resources on Guardianship and Voting and How to Get Your Rights Back are available from Disability Rights Wisconsin: Guardianship and Voting - Disability Rights Wisconsin
VOTING QUESTIONS?
Help is available! Contact these resources: