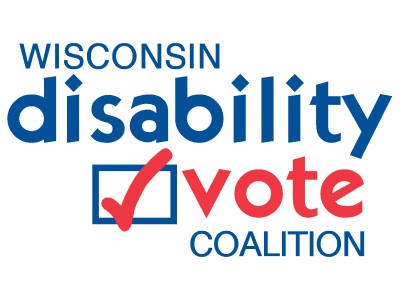 Voting News from the Disability Vote Coalition
The Wisconsin Disability Vote Coalition is a non-partisan effort to help ensure full participation in the electoral process of voters with disabilities.


Federal Court Order: Wisconsin Voters with Disabilities Must Be Permitted to Receive Ballot Return Assistance
On August 31, Chief U.S. District Judge James Peterson issued an order in the case Carey v. WEC. Judge Peterson's order confirmed the federal rights of the four plaintiffs and of all disabled Wisconsin voters to receive assistance from a person of their choice to return their absentee ballots so that they can vote without fear that their ballots will be rejected or that they will be sanctioned.


Judge Peterson's order clarified how the Voting Rights Act applies to Wisconsin voters who require assistance with mailing or delivering their absentee ballot ("ballot return assistance") because of a disability

.

As a next step, the Federal Court required the Wisconsin Election Commission (WEC) to issue written instructions to all Wisconsin municipal clerks stating that:

Any Wisconsin voter who requires assistance with mailing or delivering their absentee ballot to the municipal clerk because of a disability must be permitted to receive such assistance by a person of the voter's choice, other than the voter's employer or agent of that employer or officer or agent of the voter's union.
View the WEC instructions here:

Disability Voting Rights Week, September 12-16
September 12 – 16 is Disability Voting Rights Week. Join us at one of these events to support voting rights and voter registration to prepare for the November 8th elections. In addition, the Self Determination Channel will introduce a new video on accessible voting machines! Questions? Contact: DRW Voter Hotline: 844-347-8683 or Email: info@disabilityvote.org


City of Milwaukee Celebrates Disability Voting Rights Week Press Event, September 12th at 10:45 AM at Independence First
Mayor Cavalier Johnson and Claire Woodall-Vogg, Executive Director, City of Milwaukee Election Commission will kick off the celebration of Disability Voting Rights Week. The program will feature a demonstration of accessible voting and remarks from Scott Luber and Martha Chambers, two of the plaintiffs in Carey v. WEC, and remarks about accessible voting from voter Danita Jackson.
Space is limited and masks are required. If you would like to attend, contact barbarab@drwi.org or call 844-347-8683 to determine if space is still available.


Guardianship and Voting Rights, September 14, 11:30 – 12:30 on Zoom
Join us on Zoom to learn about voting rights for people under guardianship. We will discuss how voting rights are addressed in the guardianship process, and the process for restoring the right to vote. A new video will be shown featuring self-advocate Jen Kratsch sharing how she got her right to vote restored.

Voting Rights Matter Lunch and Learn, September 15, 11:30 – 12:30 on Zoom
Join the WI Disability Vote Coalition on Zoom for important information about voting rights. A panel of voters with disabilities will share information about voting rights and accommodations. You will hear the latest voting updates, what to do if you have a problem voting and how to take action to protect your voting rights.

Madison Disability Voting Rights Press Event, September 15, 9 – 9:30 AM Madison City Hall/Dane County Clerk's Office Lobby (210 Martin Luther King Jr Blvd)
Join us in celebrating National Disability Voting Rights Week. This week raises awareness that voters with disabilities across the country have an important voice. Madison Mayor Satya Rhodes-Conway, Deputy Clerk Jim Verbick and voters with disabilities will talk about voting rights, barriers for voters with disabilities and why your vote matters. You can also try out an accessible voting machine and get valuable resources. All are welcome! For more information, contact Jennifer Neugart Jennifer.Neugart@wisconsin.gov


Empowering the Disability Vote: Civic engagement for the disability community and their allies September 15, 7 – 8:30 PM on Zoom
Join us to hear about voting rights for people with disabilities, and recent legal developments, including a litigation update from Attorney Scott Thompson of Law Forward. Hosted by the League of Women Voters of Milwaukee County

Make Your Plan to Vote in the November 8th Election, September 29 at 7 PM
Join us on Zoom and Facebook Live for this interactive session. Vision loss should not be a barrier to exercising your right to vote. Vision Forward, the Wisconsin Disability Vote Coalition, Wisconsin Council of Blind and Visually Impaired and others are teaming up to make sure people with vision loss have a successful voting experience this fall.

Voter Registration for the November 8th Election
National Voter Registration Day is September 20th. Make your plans now to support community members with registering to vote, so they can cast a ballot in the November 8th election! The Wisconsin Disability Vote Coalition can work with you to make your plan to support voter registration.

Have a voter registration phone bank day! Call your participants and ask if they are registered to vote or if they would like help. You can check their voter registration at https://myvote.wi.gov/.
We can partner with you to hold a virtual event with your members
If you are holding an event, we might be able to arrange for a someone to attend and help participants with voter registration.
We can schedule calls to help individuals with voter registration.
Contact us at DRW Voter Hotline: 844-347-8683 / Email: info@disabilityvote.org
VOTING QUESTIONS?
Help is available! Contact these resources: