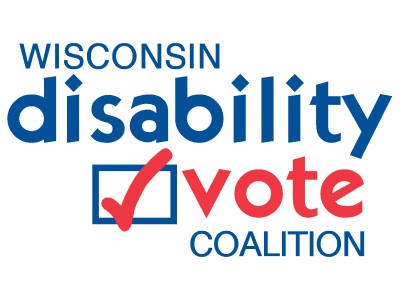 Voting News from the Disability Vote Coalition
The Wisconsin Disability Vote Coalition is a non-partisan effort to help ensure full participation in the electoral process of voters with disabilities.


The Partisan Primary is August 9th. Make sure you have your plan to vote. Our "Make Your Plan to Vote" Fact Sheet will walk you through the steps! View it online or print a copy.


Questions? Contact the DRW Voter Hotline at 844-347-8683 / info@disabilityvote.org.


Are you voting absentee? It's too late to return your absentee ballot by mail. Your absentee ballots can be delivered to your municipal clerk's office or to your polling place (or central count location) no later than 8:00 PM on Election Day.


If you are not able to personally return your ballot due to disability, Disability Rights Wisconsin has provided this step by step process for voters who need to request an accommodation:


If you are voting in person, make sure you are prepared to vote!

As a person with a disability, it is your right to have a full and equal opportunity to register to vote, cast a ballot, and access disability related accommodations. Make sure you know your rights.

If you experience an accessibility or voting rights concern on election day, help is available:


If the concern is at your polling place, first, contact the Chief Election Inspector at your polling place or ask for the municipal clerk.


If the problem isn't fixed, you may contact:

Wisconsin Elections Commission (WEC) at 1-866-VOTE-WIS (866- 868-3947).
Disability Rights Wisconsin Voter Hotline at: 1-844- DIS-VOTE (844-347-8683)/ or email: info@disabilityvote.org
ADA Anniversary and Voting Rights - Resources
Thank you to all of the great speakers at our virtual event, Celebrating the ADA's 32nd Anniversary and Its Impact on Voting Rights. Our speakers shared important information about how the ADA protects voting rights, including the right for voters with disabilities to have assistance with mailing or delivery of their absentee ballot, and the process to request an accommodation.


Our panelists Stacy Ellingen, Felicia Claybourne, and Trudy Le Beau shared their perspective on the importance of the ADA, and their concerns about how restrictions on ballot return assistance would impact their voting rights.


VOTING QUESTIONS?
Help is available! Contact these resources: