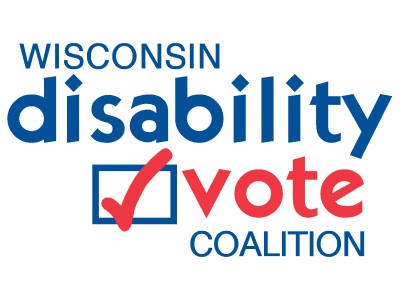 Voting News from the Disability Vote Coalition
The Wisconsin Disability Vote Coalition is a non-partisan effort to help ensure full participation in the electoral process of voters with disabilities.


Act NOW to Contact Your Assembly Rep about Voting Bills
On Tuesday June 22, Wisconsin Assembly Representatives will vote on some bills that may make it harder for many people with disabilities, older adults, and people of color to vote.


If you are concerned about the bills, now is the time to call/email your Assembly Representative to share how these bills could impact you or a loved one.


Act Now! Call or email your Assembly Representative with your concerns about the bills that could make it harder for people with disabilities and older adults to vote.


These are the bills they will vote on June 22nd:

SB 203/AB 192: Relating to Secure Delivery of Absentee Ballots
SB 204 / AB 201: Absentee Ballot Applications
SB 205 / AB 179: Absentee Voting in Residential Care Facilities
SB 209 / AB 177: Returning Absentee Ballots to the Office of the Clerk
SB 212 / AB 198: Defects on Absentee Ballot Certificates
Below are some points you can bring up when contacting your legislator:

The bills will make it harder to absentee vote. They eliminate the option for some people with disabilities to be permanent absentee voters and always receive an absentee ballot (indefinitely confined voter).
Any voter who wants to vote absentee would need to apply for an absentee ballot for every election instead of requesting an absentee ballot for the year.
The bills add new requirements for absentee voters to submit photo ID with each absentee ballot request. Many voters with disabilities don't have access to the internet or a device to do this.
Some of the bills could make it a crime for a care provider or others to assist you with voting or to return your absentee ballot. Many people with disabilities rely on care providers, or others to assist them with voting. Voters with disabilities should have the right to chose whom they trust to assist them with voting.
Legislators should work with the disability and aging community to address barriers to voting and make elections more accessible, not less.
Check out these recent articles about the voting bills and how they may impact voters with disabilities:


New York Times, June 14, 2021


Wisconsin Examiner, June 15, 2021
Help is available! Contact these resources:

DMV Voter ID Hotline: (844) 588-1069. Apply for a free Photo ID for voting at the Wisconsin Division of Motor Vehicles (DMV).
Vote411.org and ballotpedia.org: nonpartisan information about the candidates