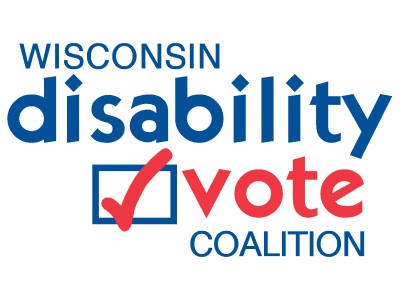 Voting News from the Disability Vote Coalition
The Wisconsin Disability Vote Coalition is a non-partisan effort to help ensure full participation in the electoral process of voters with disabilities.


June 2nd Event: Report Addresses Barriers to Obtaining Photo ID for Voting
Join us June 2nd at 1 PM on Zoom to hear about our new report: Getting There is Half the Battle: Wisconsin's Photo ID Law, Access to DMV Services, and the Fight for Our Freedom to Vote.


All Voting is Local, the Wisconsin Disability Vote Coalition and the League of Women Voters of Wisconsin, will host a discussion on how barriers to obtaining photo ID at the Division of Motor Vehicles DMV service centers impact our freedom to vote. DMV is the primary place where Wisconsin voters can obtain a photo ID to vote. These barriers disproportionately impact people with disabilities, older adults and Wisconsinites of color.


May 27th Briefing on Voting Bills
The legislature is considering new bills that may make it harder for people with disabilities, older adults and people of color to vote. It's hard to keep track of them all so the WI Disability Vote Coalition invites you to join us for a briefing. We will give you the basic overview of the bills, simple talking points to use with your legislators and 4 easy ways you can make a difference!


4 Easy Ways You Can Take Action on the Bad Voting Bills
Thursday, May 27 from 12 to 12:30 pm
Register at: https://bit.ly/3yB0Tog to get the Zoom link or join us live on BPDD's Facebook page @WisconsinBPDD.


Invite 2 or 3 friends, grab your lunch and be ready to take action!
Take the Survey – We Want to Hear from You!
Are you a voter with disabilities, an older adult voter, or a family member of a voter with disabilities?


If so, please take 5 minutes to complete our survey about your voting experience. Share your thoughts on voting bills that could make it harder for many people with disabilities and older adults to vote. We will use the survey results to show legislators how these bills could affect people's ability to vote.


We are looking for responses from people with disabilities, older adults, and family members. Please share with others in your network and ask them to complete and share the survey.


Special Election for 37th Assembly District
Do you live in the 37th Assembly District? If you do, be prepared to vote in the special election to select an Assembly representative. The seat opened up after Rep. John Jagler was elected to the State Senate, to fill the seat of former State Senator Scott Fitzgerald who was elected to Congress last fall.


The Special Election Primary is June 15th
The Special Election is July 13th
The 37th Assembly District includes portions of Dodge, Jefferson and Columbia counties and part of Columbus, Waterloo and Watertown, and the villages of DeForest, Lowell and Reeseville.


You can check your voter registration, request an absentee ballot, get another voting information at MyVoteWisconsin

.

Important dates for the June 15th primary are:

May 26, deadline to register by mail or online.
June 1, in-person absentee voting may begin.
June 10, deadline for requesting an absentee ballot.
June 11, deadline for registering in-person at the clerk's office.
Check out these recent articles about the voting bills and how they may impact voters with disabilities:

The Telegraph/ Associated Press, May 12, 2021
Wisconsin State Journal, May 12, 2021
Milwaukee Journal Sentinel, May 12, 2021
Help is available! Contact these resources:

DMV Voter ID Hotline: (844) 588-1069. Apply for a free Photo ID for voting at the Wisconsin Division of Motor Vehicles (DMV).
Vote411.org and ballotpedia.org: nonpartisan information about the candidates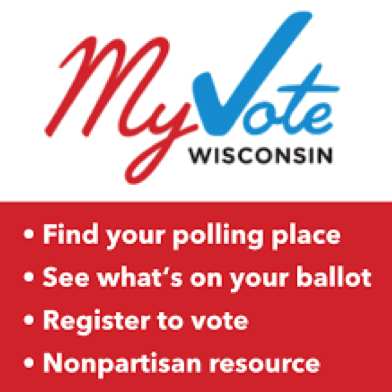 Follow the Wisconsin Disability Vote Coalition Online!