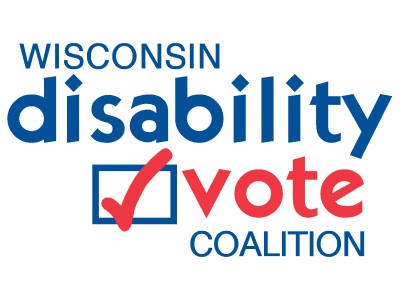 Voting News from the Disability Vote Coalition
The Wisconsin Disability Vote Coalition is a non-partisan effort to help ensure full participation in the electoral process of voters with disabilities.


Thanks for Your Partnership in 2020
What a year it has been! Thank you for your partnership with the Wisconsin Disability Vote Coalition in 2020. Historically voters with disabilities are underrepresented at the ballot box and many experience barriers to voting. This year there were unprecedented challenges because many Wisconsinites with disabilities and older adults are at greater risk for COVID-19. Casting a vote in a pandemic posed new hurdles for the voters we support.


Many of you stepped up to provide tremendous support and ensure that Wisconsinites with disabilities and older adults had the opportunity to safely exercise their constitutional right to vote. You made a difference! We hope the Wisconsin Disability Vote Coalition trainings and resources, and the DRW Voter Hotline were helpful. Today, we are asking for your help to share your experience by responding to a survey or two!


Survey for Organizations and Individuals who Assisted Voters
Did you provide assistance or resources to voters with disabilities or older adults? We want to hear from you! Help us plan for the new year! We are reaching out to the disability community and the aging network to ask for your feedback by completing this survey. It would be especially helpful to hear from you by the end of December. The purpose of the survey includes:

Get feedback on Disability Vote Coalition trainings and resource materials.
Learn about what you did to help support voters
Learn about any barriers for voters with disabilities and older adults based on your experience.
Get your input for our planning.
The Wisconsin Disability Vote Coalition (WDVC) is encouraging voters to share their experience in the November 2020 election by taking a Voter Experience survey. We need your help!


SABE Survey for Voters with a Disability
The SABE GoVoter Survey asks people with disabilities to share their experience in the November election. SABE stands for Self Advocates Becoming Empowered. The survey looks at accessibility and disability voter access at the polls. The Disability Vote Coalition will use survey results to advocate with elected officials to make improvements to our voting system.


Help us get the word out and share this survey with voters who have a disability. If a voter would like assistance completing the survey, we can help! Contact Wendy Heyn, Voting Outreach and Advocacy Specialist, Disability Rights Wisconsin at wendy.heyn@drwi.org or call 414-302-5641.


League of Women Voters Wisconsin Survey
Take the League of Women Voters WI Voter Experience survey for the November 2020 election. This survey is open to all Wisconsin voters. Complete this survey to share your voting experience - absentee, early voting, or in person on Election Day. This will help us to know about any issues you faced or good things you would like to see shared in other parts of the state.


Help us collect more surveys.

Call at least 3 friends or family members and ask them to take a survey.
Email the message and survey links to your friends and family. Ask them to take the surveys.
Post the messages and links to the survey on your social media pages (Facebook, Twitter) and ask your friends and family to take the surveys. You can also share our new video promoting the survey!
Self Advocates Video Promoting the SABE GoVoter Survey
Hear from Wisconsin Self Advocates and the Self Determination Channel about the 2020 SABE Voter GoVoter Survey. Then be sure to take the survey today! We are proud to share this video with you and encourage you to share it with your contacts and on social media. Encourage others to take the SABE GoVoter survey!
Save the dates for the 2021 Spring elections. The Spring Primary is February 16, 2021. The Spring Election is April 6, 2021.


State offices to be elected are State Superintendent of Public Instruction, Court of Appeals Judge, Districts I, II and III, and Circuit Court Judge. Candidates may circulate and file nomination papers between December 1, 2020, and January 5, 2021.


The only statewide race is for State Superintendent of Public Instruction. If more than 2 candidates collect enough signatures to be on the ballot, there will be a statewide February 16th primary. The Superintendent's responsibilities include providing leadership for Wisconsin's public school districts, providing the public with information about school management, attendance, and performance, licensing the state's teachers, and receiving and disbursing federal aid for schools.


The Disability Vote Coalition is developing new resources to keep you informed about the Spring 2021 elections. Stay tuned!


Help is available! Contact these resources:

DMV Voter ID Hotline: (844) 588-1069. Apply for a free Photo ID for voting at the Wisconsin Division of Motor Vehicles (DMV).
Vote411.org and ballotpedia.org:nonpartisan information about the candidates.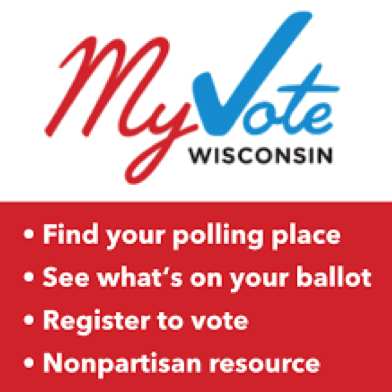 Follow the Wisconsin Disability Vote Coalition Online!