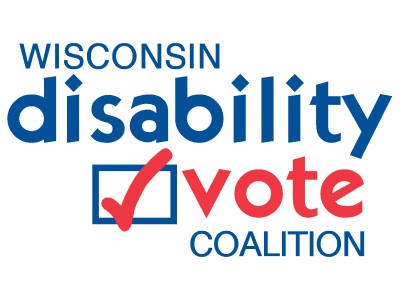 Voting News from the Disability Vote Coalition
The Wisconsin Disability Vote Coalition is a non-partisan effort to help ensure full participation in the electoral process of voters with disabilities.


Transportation to the Polls
The Disability Vote Coalition is compiling a list of transportation options for voters with disabilities, including early voting, as well as on election day. If you know of transportation options in your area, please share with us, so we can included them on our list and share with voters. If you are a voter with a disability who needs transportation, please get in touch – we may have a resource for you! Contact the DRW Voter Hotline at 844-DIS VOTE / 844-347-8683 or email us at info@disabilityvote.org


Lunch and Learn. This Thursday October 22 at noon, join us for a Lunch and Learn that will discuss Voter Rights. Denise Jess from the Wisconsin Council of the Blind and Visually Impaired and the Wisconsin Disability Vote Coalition will cover what you need to know about your right to cast a ballot privately and independently, and how to exercise this right when faced with barriers. Register Here.


Voting Rights Fact Sheet: As a person with a disability, it is your right to have a full and equal opportunity to register to vote, cast a ballot, and access disability related accommodations. Our "Know Your Voting Rights" fact sheet gives you an overview. Be an informed voter - view the fact sheet here.


Tuesday October 20th is the first day municipal clerks may offer in-person absentee voting in their office or at a satellite location. Each municipality sets their own dates and hours for in-person absentee voting. Voters should check with their clerk or check the MyVote Wisconsin website under Vote Absentee. The voter should enter their name, date and birth and search, then select "Find my local absentee options."


If a voter can't enter their polling place due to disability, Wisconsin law requires that curbside voting must be available. Individuals who are immunocompromised or have symptoms of COVID-19 are also eligible to curbside vote. Curbside voting is required to be available at early voting sites, as well as on Election Day. We recommend that voters contact their municipal clerk in advance of voting to discuss how to access curbside voting. There may be a special area for curbside voting, a bell to ring, a request to honk your horn, etc.


Help is available for voters with disabilities. The Disability Rights Wisconsin Voter Hotline can help with voting questions or assist voters to report a concern. The DRW Hotline will also share with voters any information they have received about transportation, when available. Contact the DRW Hotline at 844-DIS-VOTE/ 844-8683 or email info@disabilityvote.org


Are you voting absentee? Use the 'Track My Ballot" feature in MyVote Wisconsin. A voter with an active absentee request can check the status by entering their full name and date of birth. The tracker shows the voter if their absentee ballot request has been received, if the ballot has been sent, if the returned ballot has been received, and if there is a problem with the returned ballot.


An orange box means something went wrong — possibly issues with the voter's signature, photo ID or witness. To identify the problem and get it fixed, voters should contact their municipal clerk's office. Contact information for clerks is available on MyVote.


Reporting an Accessibility or Voting Rights Concern
If you have an accessibility or voting rights concern, take action and report your concern. Reporting the concern can help you, and may also help other voters.

If you run into problems on election day, contact the Chief Election Inspector at your polling place or ask for the municipal clerk immediately.
Contact the Disability Rights Wisconsin Voter Hotline at: 1-844- DIS-VOTE (844-347-8683)/email: info@disabilityvote.org to receive assistance with your concern or with the process of filing a complaint.
Contact the Wisconsin Elections Commission (WEC) at 1-866-VOTE-WIS (866- 868-3947) for assistance. You can report your concern at wi.gov/index.php/complaints The WEC Complaints page has an option to "Report an Accessibility Concern". We encourage you to report your concerns. Members of the Commission are informed about these complaints so it can help support the need to make a change. If your concern has been addressed, it is still helpful to report it but be sure to note that it was resolved.
November Election Results Will Take Longer to Count
Every eligible voter should have their voice heard and their vote counted. A little extra patience will be required this election as it is going to take longer to count the votes and verify the winners — and that is to be expected. Due to health and safety concerns, more people will be voting absentee than ever before.


Absentee ballots take longer to count because of security measures to verify the accuracy of those ballots. In Wisconsin, counting of absentee ballots begins when the polls open on Election day. Some states are prohibited from counting absentee ballots until after polls have closed on election night and some states (not Wisconsin) are accepting absentee ballots post marked, but not received, on election. Additionally, due to the pandemic, election officials in some areas may be working with reduced staff. We need to be patient so election officials can take the time to make sure every eligible vote is counted accurately.


Take the Voter Experience Survey
Voters with disabilities are encouraged to take a survey to help us learn more about their voting experience. The SABE GoVoter survey is conducted nationally to learn more about what is working well for voters with disabilities and what are the challenges. The Disability Vote Coalition will use the survey results to advocate with elected officials to make improvements to our voting system.


Links to the 2020 Voter Experience Survey:
To request a paper survey, or schedule time for someone to assist you to complete the survey, contact the DRW Voter Hotline at 844-DIS-VOTE or email info@disabilitvote.org.
Help is available! Contact these resources: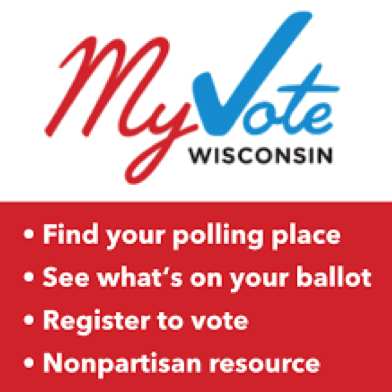 Follow the Wisconsin Disability Vote Coalition Online!