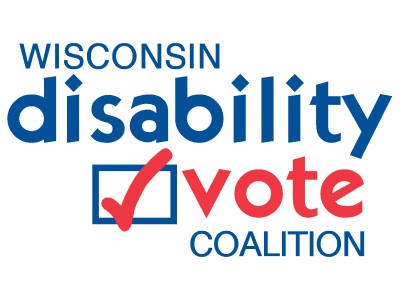 Voting News from the Disability Vote Coalition
The Wisconsin Disability Vote Coalition is a non-partisan effort to help ensure full participation in the electoral process of voters with disabilities.


Election Day is February 16th. Polls will be open from 7 AM – 8 PM.
The Disability Rights Wisconsin Voter Hotline is here to help you with your voting questions on election day and every day. Contact the DRW Voter Hotline at 844-DIS-VOTE/ 844-8683 or email info@disabilityvote.org
Make sure you are prepared to vote on February 16th
Voting absentee? Don't delay, return your ballot today. Drop it off at your municipal clerk's office or absentee ballot drop box through Feb. 16.

Have a question about absentee voting? Your clerk can help. Find their contact info here.
You can find your clerk's office address and drop box locations by visiting myvote.wi.gov.
The State Superintendent of Public Instruction is the only statewide race on the ballot. The State Superintendent has a major impact on schools and communities across Wisconsin, including ensuring schools meet their responsibilities to students with disabilities. Seven candidates are on the ballot so be prepared to make an informed choice.

Order Your Voter Resources Today
Our free Voter postcards include 2021 election dates, and resources for voter registration, photo ID, and more. Postcards are available in English and in Spanish. Order your postcards TODAY using this link. 2021 WDVC Postcard Survey (surveymonkey.com)


March 4th State Superintendent of Public Instruction Candidate Forum
Be prepared for the April election! Join the Wisconsin Disability Vote Coalition on Thursday March 4th at 7 PM on Zoom to hear from the candidates running for Wisconsin State Superintendent. The event is open to all, but you must register here: State Superintendent Candidate Forum Registration.
Help is available! Contact these resources:

DMV Voter ID Hotline: (844) 588-1069. Apply for a free Photo ID for voting at the Wisconsin Division of Motor Vehicles (DMV).
Vote411.org and ballotpedia.org: nonpartisan information about the candidates