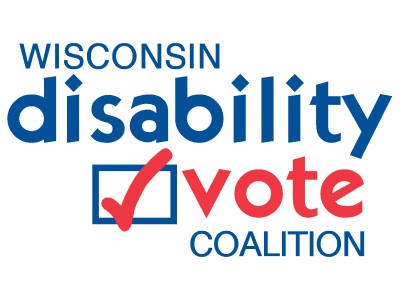 Voting News from the Disability Vote Coalition
The Wisconsin Disability Vote Coalition is a non-partisan effort to help ensure full participation in the electoral process of voters with disabilities.


The November Election is rapidly approaching. The Wisconsin Disability Vote Coalition has new resources and trainings to support you!


Make Your Plan to Vote: Make your plan now to vote for the November 3rd Presidential Election. The Disability Vote Coalition has a new fact sheet to help you prepare your voting plan.


Resource for Candidates. Survival Coalition of Wisconsin Disability Organizations has a new resource to help candidates understand disability issues. Issues that Impact People with Disabilities in Wisconsin: Background Papers, provides an overview of services important to the lives of Wisconsinites with disabilities. Share this resource with candidates running to represent you, to help them to learn about services that are vital to Wisconsinites with disabilities. Find information for contacting your candidates at WisconsinVote.org or Vote411.


WEC Voter Mailing Going Out September 1:
On September 1, 2020, the Wisconsin Elections Commission (WEC) is sending an informational mailing to approximately 2.6 million voters. The mailing will include information about the November election, and absentee ballot application, and a pre-addressed, business reply return envelope to the WEC (no postage required by voter). Not all voters will receive the mailing. The mailing is only going to voters who are registered to vote in Wisconsin, not in Active Mover's status, and did not already have a General Election absentee request on file at the end of June.


Have a voting question or concern?
Help is available! Contact these resources: