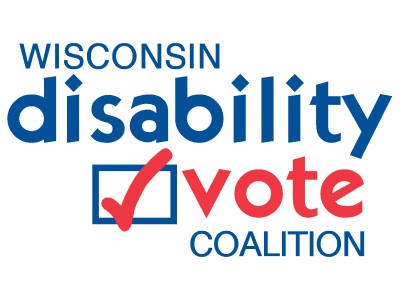 Voting News from the Disability Vote Coalition
The Wisconsin Disability Vote Coalition is a non-partisan effort to help ensure full participation in the electoral process of voters with disabilities.


If you have voting questions or concerns, call the Disability Rights Wisconsin Voter Hotline at 844-DIS-VOTE or email us at info@disabilityvote.org.


Help us learn more about your voter experience and any barriers. Take our Voter Experience Survey. We also want to hear from people who wanted to vote and could not:
Here are some key points for today's election:
If you are voting in person, check your polling place at myvote.wi.gov. Your polling place may have changed.
Be prepared to vote. View your ballot online at myvote.wi.gov.
Be sure to bring a valid photo ID. For more information on acceptable photo IDs: https://bringit.wi.gov/do-i-have-right-photo-id
If you are not able to enter your polling place due to disability, you may request curbside voting.
You have the right to ask for and receive disability related accommodations at your polling place. If you have difficulty being accommodated, ask to speak to the Chief Election Inspector
Be patient and courteous. These are difficult conditions with many new poll workers.
Be safe. Wash your hands before voting and after voting and maintain social distancing.
If you are voting absentee:
All absentee ballots must be hand delivered by 8 p.m. on April 7 or postmarked by April 7 and received by 4 p.m. on April 13 to be counted according to the U.S. Supreme Court ruling.
Ballots may be hand-delivered to your polling place.
Some communities including the cities of Milwaukee and Madison have drop boxes for absentee ballots. Check the website for your community for more information.
You may ask someone else to deliver your absentee ballot.
If you were directed by a local or state health official or your doctor to quarantine due to COVID 19 diagnosis or exposure, you qualify as a hospitalized voter for purposes of the statutes allowing an agent to transmit your absentee ballot request and your absentee ballot to the municipal clerk (or in Milwaukee, the election commission) today. Contact your Municipal clerk for guidance – find contact information at : myvote.wi.gov/en-US/MyMunicipalClerk
Absentee ballots will not be counted if they are:
Not postmarked by April 7.
Postmarked on or before April 7, but received after 4:00 p.m. on April 13.
Hand delivered or without a postmark received after 8:00 p.m. on April 7.
If you requested an absentee ballot and did not receive it you could consider the following:
Vote in person
Contact your municipal clerk, tell them you have a request for an absentee ballot on file, and ask them to email you a ballot. You would need to be able to print your ballot, complete it, get a witness signature, and deliver or mail it today. It may not be possible to reach your clerk today, but worth a try.
Follow the Wisconsin Disability Vote Coalition Online!