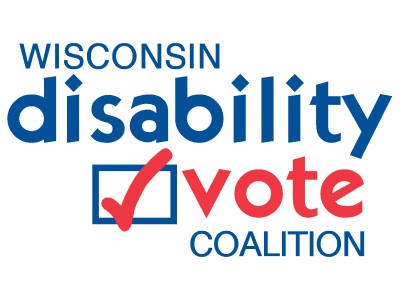 Voting News from the Disability Vote Coalition
The Wisconsin Disability Vote Coalition is a non-partisan effort to help ensure full participation in the electoral process of voters with disabilities.


June 17th Voter Training –

B

e Prepared for the August & November Election!
Join the Wisconsin Board for People with Disabilities for Living Well Wednesday. The Wisconsin Disability Vote Coalition will join BPDD for an informative session on voting to help you be prepared for the August 11th and November 3rd elections. This training will walk you through voter registration, absentee voting, understanding your rights and how to be safe at the polls. You will learn about the great resources available to make sure all your voting questions are answered including the DRW Voter Hotline: 1-844-DIS-VOTE.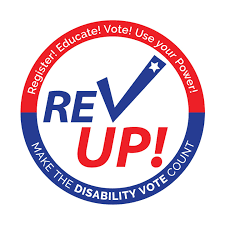 REV UP for National Disability Voter Registration Week
National Disability Voter Registration Week is July 13- 17th. The Wisconsin Disability Vote Coalition invites you to join us to grow the power of the disability vote.


On Tuesday June 23rd from 2:30 – 4 PM, we are hosting Voter Registration, Rights and Resources: Zoom Training on Voting for Wisconsin disability organizations .


Attend this free training and get the information and resources you need to REV Up for the August 11 and November 3 elections. Develop a plan for your organization to make a difference!


Stay Safe! Request your absentee ballot for the August 11 Election TODAY!
Due to continued concerns about COVID 19, the Disability Vote Coalition encourages registered voters to request an absentee ballot for the August 11th and November 3rd elections.


If you are a registered voter, you can request your absentee ballot now at MyVote at myvote.wi.gov/en-us/VoteAbsente! You must provide a photo ID with your absentee ballot request, more information on photo ID can be found here.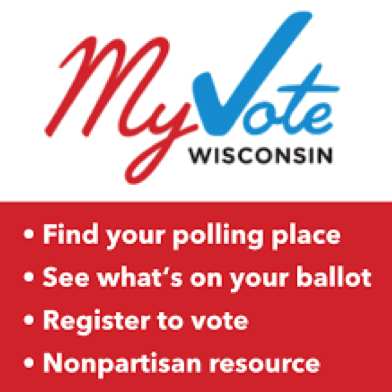 The next statewide election in Wisconsin is the August 11th Partisan Primary. Offices to be elected include all US Congressional Representatives; all State Assembly Representatives, State Senators from even-numbered districts, and county District Attorneys.


View your current elected officials at myvote.wi.gov/en-us/. As the election gets closer, you may also view your ballot at MyVote. As the election gets closer, Vote411.org is a helpful site to find nonpartisan information about the candidates, including candidate forums.


VOTING TIPS FOR THE AUGUST 11TH ELECTION
Are you Registered to Vote?
Check your voter registration status at myvote.wi.gov/. If you need to register, you may be able to register online. Eligible Wisconsin Voters who have a current and valid Wisconsin Driver License or Wisconsin State ID Card can register completely online at MyVote. You may also update your voter registration information if you have a new address. Questions? Call the DRW Voter Hotline at 1-844-DIS-VOTE.


Voting complaints? Here's How to Take Action.
If you are a voter with a disability who has experienced an accessibility concern related to voting, the Wisconsin Election Commission would like to hear from you. The WEC has added a new option on their Complaints page for reporting accessibility-related concerns such as polling place accessibility, website accessibility, curbside voting, or voting equipment.
Your complaint will allow the WEC to more efficiently address any barriers for voters. The Commission will also use this information to inform training and clerk communication related to accessibility. Make a difference – file a complaint.
NOTE: If you are requesting formal determination or remedies, you should file a sworn complaint. For assistance filing a complaint, contact the Disability Rights Wisconsin Voter Hotline at 1-844-DIS-VOTE or info@disabilityVote.org


Share Why You Vote Absentee
Have you voted absentee in past elections, or do you plan to vote absentee in the upcoming 2020 elections? We want to hear from you!


The Wisconsin Disability Vote Coalition is seeking volunteers for our 'Voices of Voters' social media series, to help us promote absentee voting. If you would like to participate, message us the following items:


- Your name, location and a photo of you
- A brief statement about why YOU vote absentee, or why you plan to in upcoming elections!


Follow the Wisconsin Disability Vote Coalition Online!