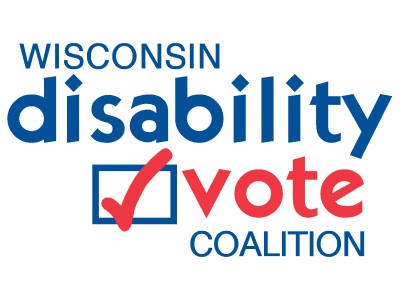 Voting News from the Disability Vote Coalition
The Wisconsin Disability Vote Coalition (WDVC) is a non-partisan effort to help ensure full participation in the entire electoral process of voters with disabilities.


February 18 - Spring Primary
April 7 - Spring Election & Presidential Preference Vote
August 11 - Partisan Primary
November 3 - General & Presidential Election


Are you ready to vote on February 18th?
State Supreme Court:
When you vote in Wisconsin's February 18 Spring Primary, your ballot will include a choice for the State Supreme Court. To learn about the Wisconsin State Supreme Court, why it is important to people with disabilities, and to learn about the candidates, check out these resources on our website.



Photo ID. Wisconsin law requires voters to show an acceptable photo ID to vote at the polling place. A list of acceptable IDs can be found at www.bringitwisconsin.com/

If a voter does not have an acceptable photo ID, a free Photo ID for Voting can be obtained from the Department of Motor Vehicles (DMV): 844-588-1069 or wisconsindot.gov.
Voters who are indefinitely confined (meaning you have trouble getting to your polling place due to age, illness, infirmity, or disability), or who reside in nursing homes or other residential facilities, are not required to provide a photo ID.


Do you always need to absentee vote due to disability, age, or illness? You can complete an absentee ballot application and choose the "indefinitely confined" option on MyVote.wi.gov or in section 6 on the Wisconsin Application for Absentee Ballot. Indefinitely confined voters will continue to receive ballots for each election until the voter doesn't return a ballot. If this occurs, the municipal clerk will contact the voter to see if they want to remain on the indefinitely confined voter list. Call your municipal clerk to learn more, or complete an Absentee Ballot Application.


Know Your Rights. Do you know your rights as a voter with a disability? Watch our video to learn about your right to ask for accommodations, curbside voting and more:

Want to get involved? The Education and Outreach Sub-Committee of the Wisconsin Disability Vote Coalition is looking for members! This sub-committee works on resources to help voters be informed about their rights. The sub-committee meets by phone once a month. For more information, contact Wendy Heyn at 414-302-5641 or wendyh@drwi.org


Have a voting concern or question? Contact the Wisconsin Election Commission Toll-free Voter Help Line at 1-866-VOTE-WIS. For disability related voting questions, contact the Disability Rights Wisconsin Voter Hotline at 844-DIS-VOTE / 844-347-8683 or email info@disabilityvote.org.



Follow the Wisconsin Disability Vote Coalition Online!