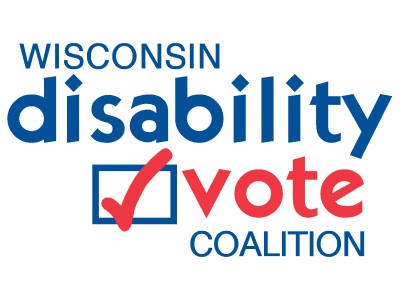 News from the Disability Vote Coalition
The New Year is just around the corner. Make a New Year's resolution to vote in all of the 2020 elections!


February 18, 2020 Spring Primary
April 7, 2020 - 2020 Spring Election & Presidential Preference Vote
August 11, 2020 – Partisan Primary
November 3, 2020 – General & Presidential Election


Is Your Voter Registration Current?
An Ozaukee County judge has ordered the state to remove over 200,000 people from Wisconsin's voter rolls. These are voters who have been flagged as having a new address. They were sent a mailing asking them to update their voter registration if they have moved or alert election officials if they are still at their same address.

Make sure your voter registration information is current and correct. You can confirm your address or update your registration at wi.gov.
Voters who are removed from the voter rolls, whether correctly or mistakenly, can regain the ability to cast ballots by re-registering online, at their clerk's office or at the polls on election day. This ruling will be appealed.
Can't get to the polls on Election Day? You can still vote. Any registered voter can apply for an absentee ballot from their municipal clerk. The request can be made in writing by mail, e-mail, fax or online at wi.gov/. If you are not already registered, you will need to register to vote before an absentee ballot can be sent to you.


Check out our new video "Consider Becoming a Poll Worker". The video features people with disabilities who serve as poll workers, Wisconsin Election Commission staff, and Town of Mukwonago Administrator/ Clerk Kathy Karalewitz. It is posted on the videos section of our website: https://disabilityvote.org/videos/ If more people with disabilities serve as poll workers, it can help our polling places to be more inclusive and accessible.


Have a voting concern or question? Contact the Wisconsin Election Commission Toll-free Voter Help Line at 1-866-VOTE-WIS.


For disability related questions, contact the Disability Rights Wisconsin Vote Hotline at 844-DIS-VOTE / 844-347-8683


Follow the Wisconsin Disability Vote Coalition Online!