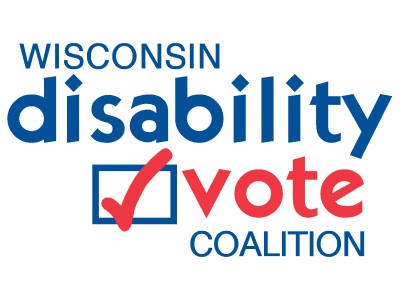 Are you prepared for the April 7th election? Help is available:
Deadlines for April 7, 2020 April Spring Election – posted on MyVote: myvote.wi.gov/en-us/VoterDeadlines
Note that the deadline to request an Absentee Ballot is April 2; April 3 for "indefinitely confined" voters
Voting questions? Contact the Disability Rights Wisconsin Voter Hotline: Email us at info@disvote.org or call 844-DIS-VOTE
Check out our website for voting resources, including our new video: How to Request an Absentee Ballot: disabilityvote.org/
Join the Disability Vote Coalition on April 1st at noon via Zoom for "Voting and COVID-19: What Should You Know!?! – see details below
Voting and COVID-19: What Should You Know!?!
Wednesday, April 1, 12:00 – 1:00 pm through Zoom
There is a lot of confusion around the April 7th election because of the COVID-19 pandemic. Join members of the Wisconsin Disability Vote Coalition to learn the latest, get your questions answered and make sure your voice is heard through your vote. From absentee voting to tips on in person voting, the Census and more!


Dial by your location, then enter Meeting ID#.
+1 646 558 8656 US (New York)
+1 312 626 6799 US (Chicago)
+1 301 715 8592 US
+1 346 248 7799 US (Houston)


Presenters Include:
Barbara Beckert, Disability Rights Wisconsin
Wendy Heyn, Disability Rights Wisconsin
Denise Jess, WI Council for the Blind and Visually Impaired
Jenny Neugart, WI Board for People with Developmental Disabilities


Questions? Contact these resources: