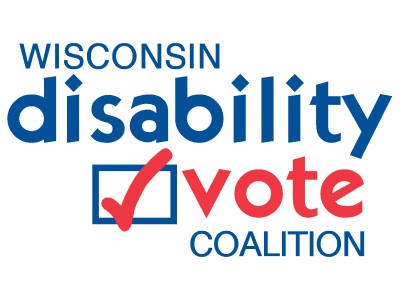 Voting News from the Disability Vote Coalition
The Wisconsin Disability Vote Coalition is a non-partisan effort to help ensure full participation in the electoral process of voters with disabilities.


Prepare now for the April 7th election. Vote early to minimize election day crowds and minimize exposure. Absentee voting is easy in Wisconsin and is one way to ensure voters who do not wish to go to the polls on election day that their votes will still be counted.

If you are not registered to vote or have moved recently, TODAY, Wednesday March 18th is the last day to register to vote online (or by mail). Register at myvote.wi.gov/. Starting March 19, registration is still available in person at your municipal clerk's office until the Friday before the election and on Election Day at the polling place.
Any Wisconsin voter who is registered to vote, can request an absentee ballot at myvote.wi.gov/. You may also contact your local clerk by phone, email or mail and request an absentee ballot.

Voters should request an absentee ballot

as soon as possible

. The deadline is April 2, but do not wait!

If you are "indefinitely confined" due to age, illness, infirmity, or disability, you are not required to provide a photo ID with your Absentee Ballot application. Choose the Indefinitely Confined option in section 6 of the form, certifying you are indefinitely confined, or send a request in writing to your municipal clerk.
In person absentee voting will also be an option in many communities.

Additional information is available at disabilityvote.org/
Take Our Voter Accessibility Survey:
The Disability Vote Coalition is conducting a Voter Accessibility Survey to learn from voters with disabilities and their allies about the accessibility of their voting experience for the April election. We want to hear from voters who participated in early in person voting, as well as those who voted at their polling place on April 7th.


Questions? Contact these Resources:
Follow the Wisconsin Disability Vote Coalition Online!