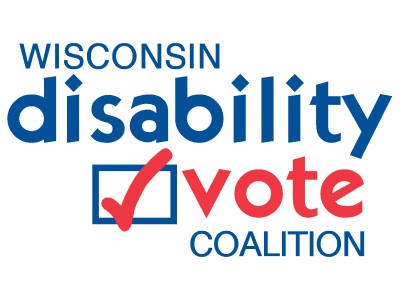 Voting News from the Disability Vote Coalition
The Wisconsin Disability Vote Coalition is a non-partisan effort to help ensure full participation in the electoral process of voters with disabilities.


Voting Absentee for the April 7th Election
Because of concerns about COVID-19, the Wisconsin Election Commission is encouraging Wisconsin voters to vote early for the April 7th election. Any Wisconsin voter who is registered to vote, can request an absentee ballot.


If you want to vote absentee, make sure your registration is up to date, and request an absentee ballot as soon as possible.
The easiest way to check your voter registration status, register to vote, and request an absentee ballot is to visit: myvote.wi.gov/.
For detailed information about voting absentee for the April 7th election, check out our directions on the Disability Vote Coalition website.
Don't delay if you need to register to vote for the April 7 election. The deadline for online and mail registration is Wednesday, March 18 at 11:59 PM. Start or update your registration at myvote.wi.gov. If you miss the deadline, you can still register in your municipal clerk's office or at your polling place.
In-Person Absentee Voting at your Municipal Clerk's Office (Early Voting)
Another option for early voting is to vote early in-person in your clerk's office or another location in your municipality designated for Early Voting/In Person Absentee voting. To find the dates and hours for Early Voting in your community, contact the municipal clerk for the city, village or town where you live.


If you have disability related voting questions, contact the Disability Rights Wisconsin Voter Hotline at 1-844-347-8683 or email us at info@disabilityvote.org